Buying a Used Nissan Leaf
Buying any used car can be a daunting experience, but there are even more things to consider when going electric. Eco Cars have been following the evolution of electric cars since the 1990s, so we know what to look for, what works and what doesn't. In fact, the majority of our cars are electric, and thus we know first hand the joys that come from green economic motoring. We have comprised a small handy guide to help you become a proud owner of a used Nissan Leaf:

Charging Cables
When acquiring a Leaf, its crucial to examine that all the charging wires are included with the sale and undamaged. They are not only vital to charging the car, but also expensive to replace. The same principle extends to the SD card, which the infotainment system relies upon to work appropriately. These are customised to specific cars as well as could also set you back numerous pounds to replace.
Charging Points
When purchasing a Nissan Leaf, buyers should also think about the cost of setting up the charger on their home premises. Considering That the Nissan Leaf charges as opposed to using fuel, owners wind up investing a lot less in electrical power compared to they would on fuel.
Battery
The largest issue with electric cars, and mainly used electric cars, is how well the batteries maintain their capacity. If you acquire a vehicle that has difficulty holding battery charge, then you might want to consider the expense of changing the battery. This can be high, especially when compared to the price of getting a used EV. Specific models with poor depreciation values may see their value drop below the cost of replacing the battery.
Make sure you check the dashboard for the battery capacity bars. The first generation of 2011-2017 Leaf had 12 bars of to indicate a good state of health for the battery pack. Over time, the capacity (and thus range) of the battery will deteriorate, and the bars will disappear. The first bar diminishes at 82% capacity.
We do expect battery manufacturers to offer retro fit EV batteries to older Nissan leaf in the future, as battery technology moves on, offering greater range than the original Leaf.
Model
Check that the vehicle is NOT a "Flex" Leaf. This was a leased battery scheme where Nissan owned the battery with a guarantee that if it dropped below 75%, they would replace the battery under warranty. The initial purchase costs from the dealership are reduced. However, the battery lease was around £70 a month depending on the term and miles driven, heavily restricting the usage of the car.
The flex option is not available on the 2018 Leaf.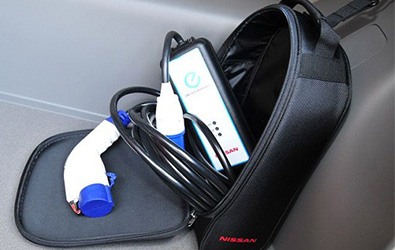 Standard EVSE Charging Cable for domestic 3-pin charging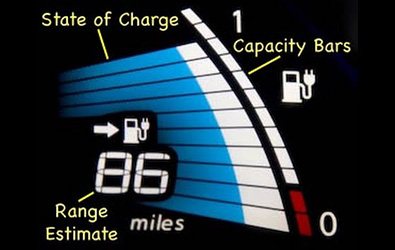 The Nissan Leaf dashboard and what the numbers and bars mean